Bikemore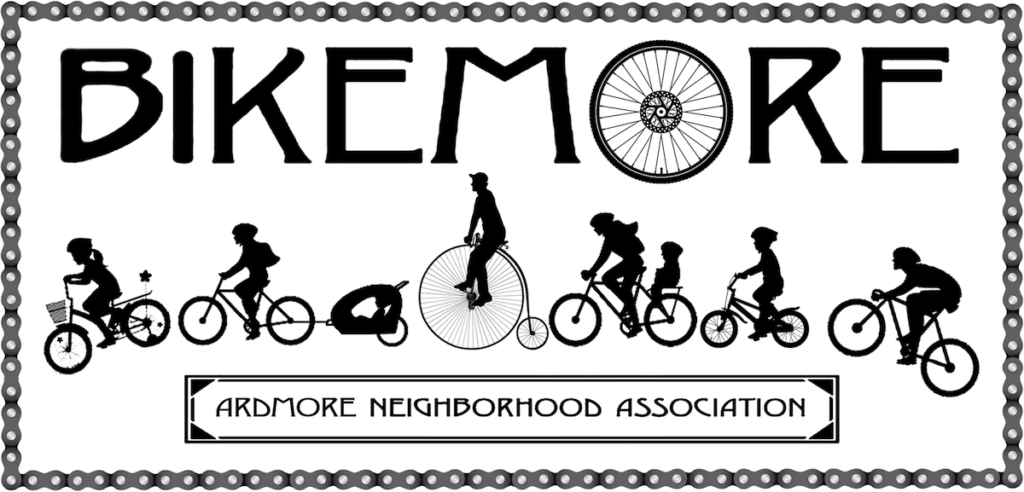 The Ardmore Neighborhood Association is holding a free bicycle festival for the community on Saturday, May 14th. May is Bike Safety Month and if ever there was a year for an outdoor spring celebration, it's this year!
Download Bikemore event map
This family-friendly event will offer:
Bike safety training and helmet fittings for kids
Blocked-off street for riding
Unicycle and BMX demonstrations
"

Bike rodeo

" class put on by the police department to teach kids bike safety and hand signals
Food trucks, games, vendors, and more
Volunteers are needed! Please consider helping out with this wonderful event. Learn more about volunteer opportunities here.
---
Click each FAQ below for more details!
How can I help with Bikemore?
Where is Bikemore being held?
Who is Bikemore for?
Anyone who cycles or wants to learn about safe cycling. We especially want to teach safe cycling skills to children, and particularly how to properly fit a helmet. Why? More children ages 5-14 go to emergency rooms for bicycle-related injuries than with any other sport; many are head injuries.
Is there a rain date?
Sorry, no. Follow us on Facebook for updates.
What should we bring?
Besides your bike, bring your helmet and a water bottle. To be sure the helmet fits properly, see this guide from the NHTSA.
Bring a lock if you want to secure your bike. There will be lots to do!
What can NOT come to Bikemore?
Do not bring electric or motorized bikes, scooters or hoverboards.
Dogs or other pets (besides appropriately restrained service dogs) are not allowed on Melrose Street during the event, per city rules. Leashed and friendly dogs may, however, be on the Ardmore Park field.
Will there be bathrooms?
They are in the Redeemer Presbyterian Church, accessed near the Miller Street parking lot.
Where should we park?
Will there be vehicles on the road where we bike?
Vehicles are not allowed on the Ardmore Park grounds. As for cycling on the street:
No vehicles will be allowed to drive in the cycling area, which are the two blocks of Melrose Street from Sherwood to South Hawthorne. This is due to city rules.
Residents of those streets have been notified.
Police officers will supervise the street closure.
City-approved barriers will be in place and volunteer monitors will be on duty.
Parents should monitor their children when they're riding their bikes, whether on the street or in the park area.
What should we do when we're not using our bikes?
Please bring a lock to secure your bike. Stay for lunch, games and relaxing outdoors.
What if my child doesn't have a bike?
Come anyway and enjoy yourselves! Bring a picnic or check out the food trucks. There'll be a limited number of loaner bikes available. And there's a playground in addition to games like cornhole and horse shoes.
I have a bike that's no longer being used. Can you use it?
Yes! There'll be a bike donation program run by Love Out Loud. Pull into the parking lot next to Redeemer Presbyterian and volunteers will help you unload it. Kids and adult bikes accepted!
Are tricycles allowed?
Of course! And bring a helmet. There will be space to ride on the blocked part of Melrose or on the field at Ardmore Park.
Do I need to register in some way?
No, not before the event, but at the event you will have to sign a Release of Claims form if you want to take part in any events at Bikemore. A parent or guardian must sign for minors.
My kid's bike is broken. Can you help?
There will be mechanics there who will tackle small repairs, as time permits. They will also do a safety check of brakes.
Why is teaching kids bike safety so important?
In 2019, nearly 100 children died of injuries while riding a bike in the U.S.. And it's estimated that more than 122,000 children visited an emergency room for a nonfatal bicycling injury.
Riding a bike is fun, healthy and good for the environment. So let's be sure our community's kids can bike safely.
More bike safety resources:
Can I be a vendor or sponsor the event?
Yes! Similar events have drawn hundreds of attendees, so businesses are sure to benefit.
For $50, vendors can set up a table to sell products, hand out cycling information, or just hang your banner. If you're unable to attend, businesses can sponsor Bikemore for $50. Each sponsor will be recognized at the event.
The $50 is payable to the Ardmore Neighborhood Association and gets you tent space (if you choose to use it) and written recognition of your business' support. Pay online or make checks payable to:
Ardmore Neighborhood Association
P.O. Box 5834
Winston-Salem, NC 27113
Deadline for payment is May 1st.
What details do I need to know as a vendor or sponsor?
You can sell cycling-related items, for adults or kids, at a canopy tent you provide that is no larger than 10' x 10'. Or, you can have a tent without selling products, which will be in a different area at the event.
Your business will be recognized on our website and Facebook page leading up to the event. At the event, you will be listed as a business supporter on flyers and you can hang a banner to display.
Additional details:
Vendors must arrive and unload between 8 and 9 a.m.
Time of event: 10 a.m. to 1 p.m.
Further instructions will be sent to those that pay to reserve a vendor spot by May 1st
Please contact us with any questions!
Can I join the ANA or make a donation?
What groups helped the neighborhood host Bikemore?